"Do I need a PM, or an Integrator?"
"Our ops need to be streamlined, so I think I need to hire a project manager…"
"Wait…can you tell me what the difference is between COO, Integrator and Project Manager? — When do I need which?"
Yes I can! And I get asked this all the time.
Here are my answers:
COOS AND INTEGRATORS
The titles COO and Integrator almost always mean the same thing, and both positions perform strategic & high-level operational planning support.
(The integrator title comes from a very popular book called Rocket Fuel that describes the Visionary/Integrator relationship that — when you get it right — acts like, erm, rocket fuel for business growth.)
Strategic means looking forward 6-12-18 months and laying plans now to make plans work out awesome later.
High-level means they are harmonizing the work the whole business does — deconflicting and cross-pollenating as needed to ensure the smooth running of the entire business, and so it can be positioned to meet the strategic business goals.
PROJECT MANAGERS
Project Managers are the "air-traffic controllers" of the various projects the business is undertaking.
They coordinate people, resources, specs, tasks, deadlines.
They take project goals and break down the work to be done, the dependencies, the scheduling, build slack into the line for changes/review, and the like.
They make sure work is done on time, on spec, on budget, and perform 1001 feats of deconfliction, problem-solving, encouragement and accountability on a daily basis.
If it was a pleasure to work on a project, thank the project manager. They did that by making sure communication is clear, documented and that everybody felt informed of status and changes.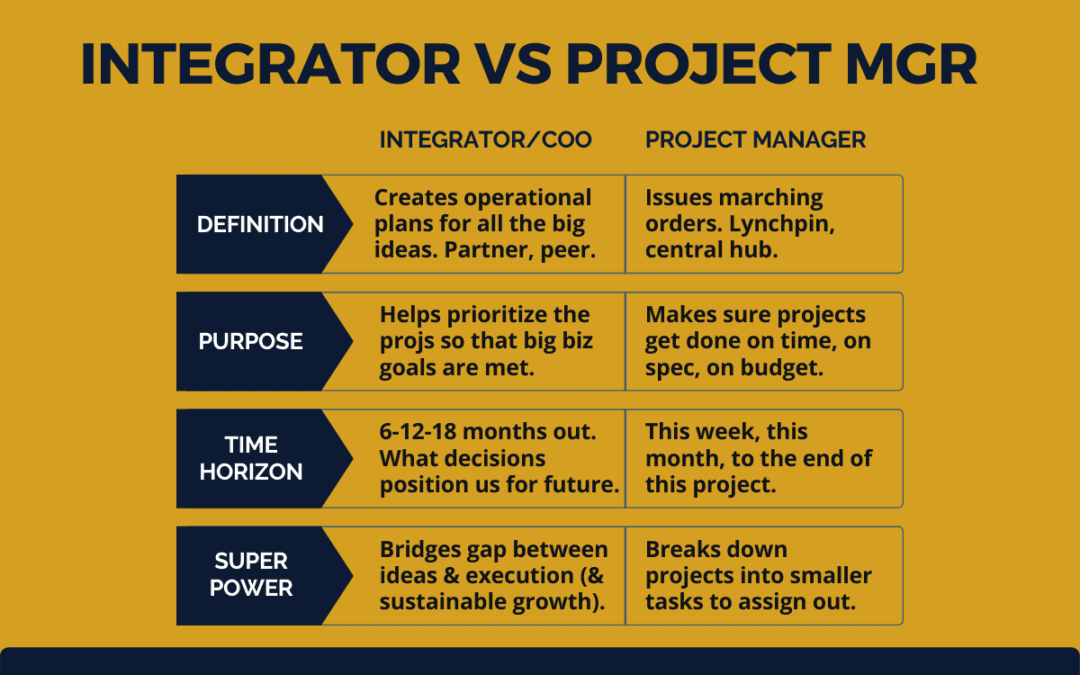 UNICORNS
Sometimes, I hear of businesses where one person does both roles for the business. These are ops unicorns — because the skill-sets are quite different to excel at both — and you should hang onto them at all costs!
DOES YOUR BUSINESS NEED A COO/INTEGRATOR?
The first hire for a small but growing business (after a VA) is usually a Project Manager. Many businesses grow for years without needing a COO. Mentorships and Masterminds offer ways experts can partner with CEOs to provide at least some of the strategic thinking & planning that's needed at that stage of business.
There are two inflection points where you should consider getting strategic ops help:
1️⃣ When you're anticipating some serious growth over the next 12 months and want your team and business to be able to absorb it, make the most of it, and leave nothing on the table.
2️⃣ When it feels impossible to grow further — when you view your next big client as the straw that just might break the camel's back. That means work capacity has hit an upper limit, and you need to bust through that upper limit to grow further.
DOES THE COO/INTEGRATOR NEED TO BE FULL-TIME ON YOUR TEAM?
This depends, of course, on the size and complexity of the business — but businesses can hit 7 figures without having a full-time COO position.
Calling in a COO for specific work — annual planning, pre-launch planning, post-launch reckonings, org chart optimizations — is a great way to get the benefit without the ongoing line-item cost.
WHAT IF YOU THINK YOUR BUSINESS NEEDS A COO?
If you find your business needs the COO toolset, I offer VIP Days and specially scoped packages. Book a call with me and we can see if there's a good fit.
---
Thank you for reading! Let me know what you think of it.