Laura Sprinkle and I have some history.
We've worked together, ALMOST worked together again, ALMOST worked together a SECOND TIME…then worked together briefly…
…and perpetually WANT to work together.
But recently we caught up and recorded our convo for her podcast: the Laura Sprinkle Show wherein we get dishy!
She's so much fun to talk to and such a gracious interview host.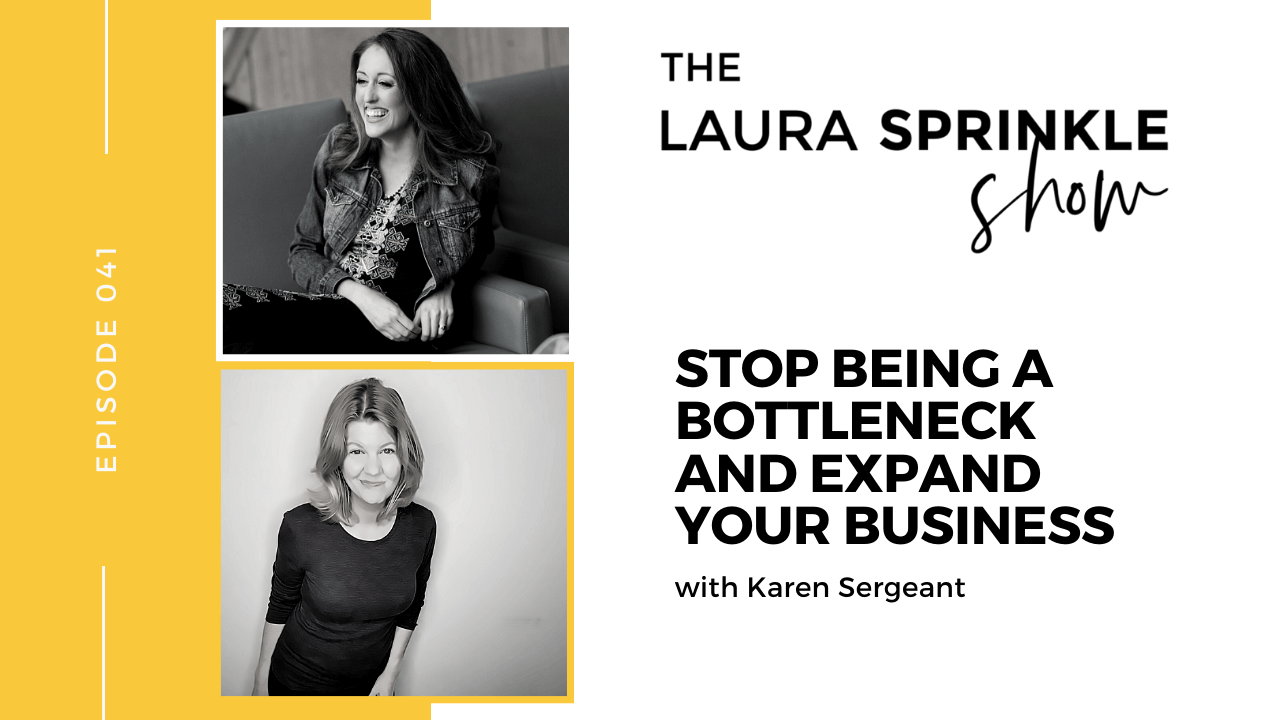 ————-
Here are the liner notes from our talk:
If you're looking to expand your team so you can grow your business, and you're experiencing those growing pains that can be so hard to get through, you'll definitely want to listen to this episode where we talk about:

[4:09] How a CEO often becomes a bottleneck for a company
[6:30] The best time to stop being a "MacGyver" in your business
[8:17] How important habits are to prevent bottlenecks
[8:24] Mindset of a CEO
[9:10] Why it's important for the CEO to identify the problems that are theirs to solve
[9:50] Taking ownership of what's in your plate
[15:37] Why self-awareness is key to being a successful business owner
[17:16] How to make a habit of celebrating little moments (and how this habit can make you a happier business owner)
[18:49] How not using social media works for Karen's business
[19:01] What happens when the universe "sends" Karen an email
[20:06] Karen explains what Bottleneck RX is NOT
[22:51] Finding out if you're ok to move forward with your current staff or you need to hire
[24:30] Understanding the problem that you're trying to solve
[26:16] How the Bottleneck Assessment quiz may help you and your business
[27:26] How agency became one of Karen's most important values

If you want to get better at delegating and are ready to expand your business, click here to listen!